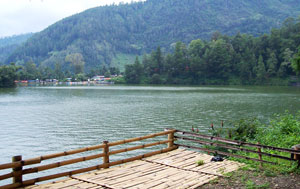 Sarangan is a hill station favored by the Dutch in colonial days. It is half way between Madiun and Solo. The village straddles the southern slope of Mount Lawu, an inactive volcano. At an altitude of 1,287 meters evenings are chilly. Sarangan Lake that also called Pasir Lake is stay at mount Lawu foot; it's about 16km (west side) from Magetan city. The tourists can enjoy the nature scenery. The wide of Sarangan Lake is 30 Ha with its depth 28 meters, and its cold air with temperature 18-25 C. There are various facilities in this area, such as; hotel, restaurants, paddle canoe, play ground and horses, which has supplied for the tourists from various region and even foreign tourist.
General Condition Of Sarangan Lake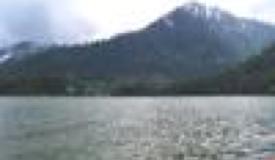 Sarangan Lake is located at Mount Lawu feet, and representing a tourist destination of East Java that always attracts attention, which never free from tourist visits. Sarangan Lake is located in Plaosan District, Magetan Regency, about 1,600 meters above sea level. The climate around is quite cool and comfortable, hence appropriate for recreations. With its cold air and beautiful scenery, Sarangan Lake is very famous as a recreation or tour place of family. Up today, Sarangan tourism is common visited by both domestic tourists and foreign tourist.
List of the last three years of visitor:
As a tourist destination, Sarangan Lake has been known since the Dutch time. Here the high-ranking Dutch officials often spent their weekends. It is not surprising that around the lake, villas of European archiecture can still be found.
In the past, Sarangan Lake was better known as Pasir Lake (sand lake). Because, during the dry season the water has dried up, showing only a huge stretch of sand. On the other hand, during the rainy season, water would fill up the entire are of the lake. However, until today no definite records can be found of when the name of Pasir Lake has changed into Sarangan Lake. But, irrespective of that, Sarangan Lake has remained natural and interesting to visit.
As one of the famous tourism objects in East Java, Sarangan has been equipped with various facilities for the comfort of visitors. The facilities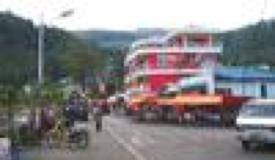 that are managed by Magetan local government, are among others; hotels; lodgments, restaurants, fruit and vegetables markets, and souvenir shops. Besides that, there are other facilities, like a wide parking area, musholla (small mosque) and guard station.
To circle along and enjoy the 75 hectares lake, tourist can use motorboats for have a trip. Apart from that, there are "water ducks" and horses that will readily take you to the other tourism destinations around Sarangan lake, such as; Tirtosari and Sarangsari waterfalls.
Tirtosari waterfall is located 3 kilometers southwest of Sarangan Lake. While Sarangsari waterfall is located 2 kilometers northwest of Sarangan Lake. Both waterfalls are still natural and very attractive, because protected forests, managed by the 'Perum Perhutani KPH Lawu DS', surround these.
At the edge of the protected forest, and exactly at the edge of Sarangan Lake, the Perum Perhutani KPH Lawu DS has also built a lodgment (bed and breakfast), equipped with hot water, television, and telephones. Rates are cheap according to domestic tourists standards, and as compared to the other hotels or lodgments around the lake. Besides that, there is a playground (fun park) for children, with a quite spacious playground. Meanwhile, for adults, apart from the comfortable environment of the protected forest, there is also an open-air stage for cultural performances. And besides that 3.5 kilometers northwest of the lake, there is a Mojosemi camping ground, managed by the Perum Perhutani KPH Lawu DS. The cool and dense environment has created a location that is quite appropriate for nature lovers who are fond of camping, recreation or researching.
It is not difficult to get to Sarangan Lake, because all types of vehicles can directly access the location. If we used public transportation, board from Bungurasih Bus Terminal Surabaya heading for Magetan.
Fasilities of Sarangan Lake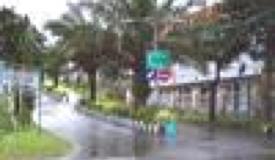 The public facilities that can found in Sarangan Lake tourism are:
The road across that is the road of province; with well condition connect Magetan-Solo through Tawangmangu.
Telecommunication facilities, such as public phone, telecommunication kiosk, etc.
Electricity and water network in good condition.
While the special facilities / tourism facilities that can found in Sarangan tourism are:
- Luxury hotel: 2
- Melati hotel: 41
- Lodgments: 16
- Restaurants: 20
- Tennis Field: 3
- Swimmingpool: 2
- Canoe: 70
- Horse: 120
- Tourism Market: 1
- Playground: 1
- Musholla (small mosque): 1
Tourism Object of Sarangan Lake
The visitors of Sarangan Lake can enjoy the ruthless and see the beautiful nature of lake, mountain nature and rice field where the local resident has cultivation, vegetable and other horticulture.
In tourism object area there is also other fascination such as:
Boat that provide to travel around the lake safely.
Horse that provide to ride horse to encircle the lake along the length of circumference line, enjoying the beauty of Sarangan Lake.
A play ground with some facilities of sheltering place and supporting facilities for children like oscillation, etc.
Tourism Market that sells various souvenir, typical food, vegetable and other Magetan regency product.
Circumference food seller like sate, corn and boiled peanut.